Quote
Banned Account Reinstatement

If Jagex bans any account as a result of your breach of the Rules of RuneScape and you have exhausted the Offence Appeals Process, Jagex may, in its absolute discretion, give you an opportunity to make a fixed payment to reinstate the account.

Any membership credit that is associated with an account cannot be used to pay for such reinstatement. Please note that throughout the period during which the account was banned, any membership credit will continue to expire.

Jagex is not obliged to reinstate any accounts. You are not obliged to exercise the option to reinstate your account. If you are offered the opportunity, it is entirely up to you whether you make any such payment to reinstate an account.

Any gains or advantages that Jagex considers were made as a result of using macros shall be removed from your account. You accept that the account will be returned to you, adjusted by Jagex to take account of the cheating offence, and no discussion will be entered into regarding the status of a returned account.
On February 2nd 2011 the new "Bans and Mutes" page went up on Knowledge Base.
http://www.runescape.../bans_and_mutes
On February 3rd 2011 it was first officially discussed by
Mod Mark H
.
Quick find code: 250-251-685-62305961
The primary player discussion is found here:
Quick find code: 129-130-874-62301629
Several JMods have answered questions posted by
Taylor Swift
and the rest of the RuneScape community in this thread.

It's been announced to all major fansites. Sorry I hesitated to make the discussion here. I figured by now somebody would have felt this an important matter -- perhaps not great at FT and Wild restored.. but come on.
And not every is too please to hear the news. As posted by 22nd top player
Athymy
.
What are your thoughts, opinions, suggestions or stance on the matter? Please no hate posts toward any groups since everyone makes mistakes at life just as at Runescape. And people DO change.
More news shall be posted to this topic once it is revealed by Jagex.
How Much Does Unban Cost?
The very first Ban Account Reinstatement finally took place on February 11th 2011 same day
Mod Mark H
made the forum thread.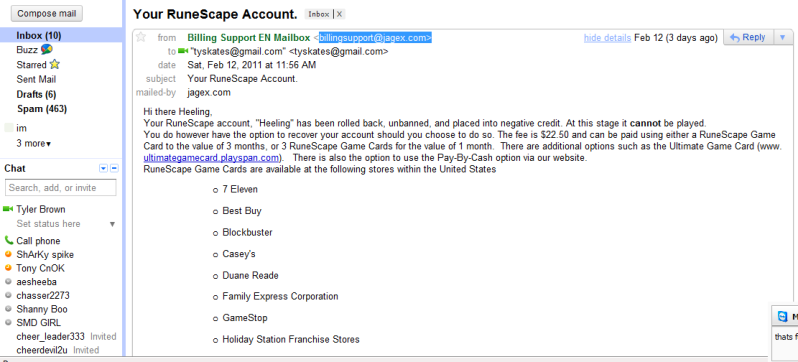 The price to buy back a banned account is $22.50 USD. This price is determined through "negative credit" that you have to pay back to Jagex before gaining access to F2P. Then if you wish you may buy more credit to earn days for P2P access.
The unbans have since February 17th 2011 been taken over by
Mod SteveW
. Post all further appeals his way if your Final Chance Appeal has been denied.
Edited by Dominion, 22 February 2011 - 02:20 AM.