Entry posted by Guest ·
262 views
*Looks at pixelated arms and legs* Yes it is! I'm really back! I've missed this place a lot more than is probably healthy.
Real life is really meh, and lack of rs hasn't helped matters at all like I thought it would. It turns out that since I wasn't doing the constant calculating and mental stuff that goes into this game I spent a lot of my free time browsing icanhascheeseburger.com. Thus letting my brain turn to mush. Amused mush, but mush non the less.
I also really miss going to school, but as I can't afford to go back for realz, I am doing what I can. Make myself study stuff. So I decided 2 days a week I am either going to spend my evening writing, or studying one of several subjects (currently I am thinking Enneagram, psychology, or Japanese language as my learning choices as I actually have books for them and I won't get so distracted by internet. lol)
I officially came back yesterday. I was missing Runescape hardcore, and I saw Full of Pie log into skype and early morning glomped her. I'm not 100% sure she recognized my skype name. lol. That set the ball rolling and before I knew it I was logged on again. In f2p. :) No offense to any f2players out there, but I can't do it. All my favorite things are on members. So I'm remembertized now and having a lot of fun. (please keep in mind that "fun" to me is doing really boring things to a lot of other people. haha).
Turns out I came back just in time for another XP weekend! 8D I'm so excited, I'm actually going to plan for this one. I'm thinking tree and farm run first thing, some Herby, then finish it off in agility for the rest of the weekend. Nice, simple, nothing to stress out over. To prepare I'm growing a bunch of herbs of a certain kind that I can't remember the name of (ie: I fail). It's so nice to be farming again. :/
So since it is the start of the month I'll go ahead and end with the high scores.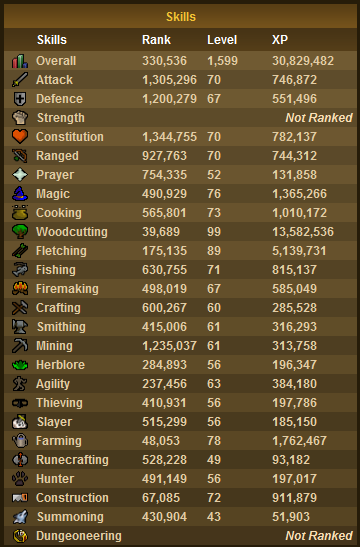 OMGWHAT?! Strength is not ranked anymore? Hell... that means I have to do combat st00fs. :) Maybe some dragonless Slayer is in order. (yes, I don't like dragons... don't judge me. :/)
It is great to be back. :/