Entry posted by Guest ·
233 views
I didn't have a chance to play as much as I would have liked this past weekend, but I do believe that the time I had was pretty productive. I started it off with a tree run excluding the fruit tree in Lletya, then started on a farm run. Then I crystaled over to Lletya to tag the last tree for 80 Farming! :) Then I ran into the bank to start mixing my potions. I didn't have as many as I wanted to get since the weekend kinda snuck up on me, but I did manage to get enough to push me to 60 Herblore!
Too soon it was time to change gears and start some agility. The bonus xp was great... but I really wasn't in the mood for this skill so after I made my first lvl I ran off to buy some maple logs to fletch and I finally reached 90 Fletching! :) 89 was such an annoying lvl to be stuck on. I Fletched a bit more and also a bit of firemaking.
So that was pretty much it. lol. May not be a lot, but I'm really happy with how everything turned out.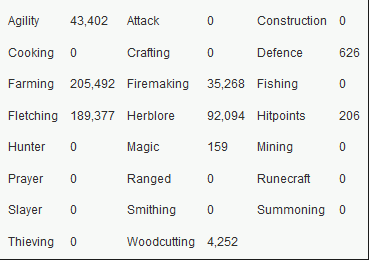 And lvl wise:
Before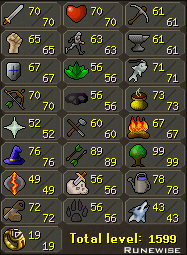 After:
So 570K total xp gained and 9 lvls. Not bad for a weekends work. :P
Congratulations to Fred Lay on 2000 total lvl! :D You're a mad man. :)