Entry posted by Guest ·
201 views
I have some pics that I need to up date with. Yeah... I'm still being a fail blogger. Hopefully when I start doing something more exciting then chopping logs in Tree Gnome Stronghold I'll have more to talk about. ^^;
I did mention it, but I didn't post when I hit 1616. No pic no proof and all.
As was said earlier, I have been wood cutting a lot lately. You'd think that getting 99wc would make me stop but NOOOO I have to keep going because I'm too cheap to buy logs to fletch. lol. All that xp adds up and I hit an epic milestone. 14mil xp.
:P
A very welcomed diversion popped up the other day. Merch just happened upon a size 7 star near the Legend's Guild while she was on a farm run and called it out in Canting. I couldn't drop my d hatchet fast enough. lol. It was a fun star and I ended up getting only 2k till 62 mining. So afterwords I sat and mined the local iron for the lvl. :o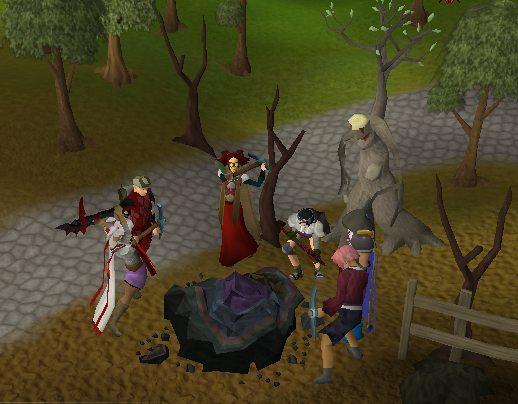 Damn those d picks are sexy... I might have to save up for one.
I still didn't want to go right back to chopping magics. So I decided to do the replacement quest for "Romeo and Juliet." It wasn't too bad actually and I did like that it didn't end with Juliet dying and Romeo running off with her cousin. That love-child. (I really have issues with the original quest just in case you didn't notice. lol)